sanskrit.

MANDA

- essence/palace -

LA

- circle -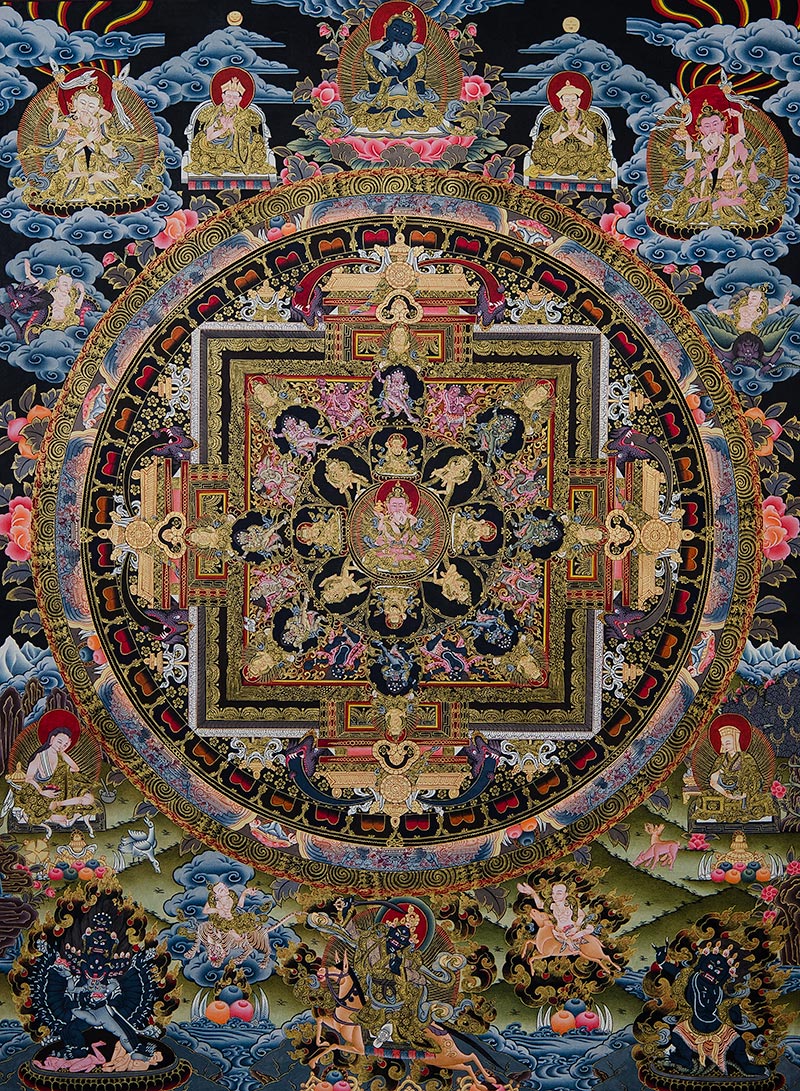 ---
The term mandala has become a generic way of describing any circular geometric pattern. Originating in the Himalayan region, early in the 11th century, the word mandala takes its origins in Sanskrit and can be translated into "circle". They are considered geometric representation of the Universe.
These paintings can in essence be used as a symbolic version of a celestial palace and therefore act as a center of focus for those who are initiated meditators.
The Swiss analytical psychologist C G Jung, whose analysis of the unconscious, led to circular symmetric shapes, his familiarity with the Indian philosophical scripture led him to adopt the word mandala to describe these shapes.
This is perhaps why the human psyche has always been fascinated by these complex, colorful images.
The Architecture of Enlightenment
---
A Mandala almost always consists of two elements outer circles combined with a square positioned inside them. The outer circles are circles symbolizing that it is constructed in a pure place and protected from external impurities and negative forces. The number of these circles can differ from one painting to another. In almost all mandalas the outermost circle (flames) symbolizes protection and the innermost circle (lotus petals) represents purity. This imagery is typical of Mandalas and Thangkas in general.
The square represents the symbolic palace that the central deity resides in. It can contain a number of deities but will always contain a central deity.
On each side of the square there is a "door" representing the entrances to the celestial palace and the four cardinal directions. In certain cases there are figures above and below the mandala, these are representations of the celestial world and our world.
The Mandala acts as a guide to aid our meditative practice. It is through focus and meditation that we are able to use the Mandala to access to the celestial world.
In this gallery you will find traditional Mandalas. These can be called Meditation Mandalas and are used by practitioners as an object of focus. Focusing on these beautiful paintings they creates a sense of peace and calm in the mind.
We have chosen a variety of unique Mandalas from our collection, with over 30 years of experience collecting these paintings, we that you will enjoy browsing through our selection. We are always ready to answer any questions you may have.