pronounced « THAN - KA » tibetan for ''painted scroll''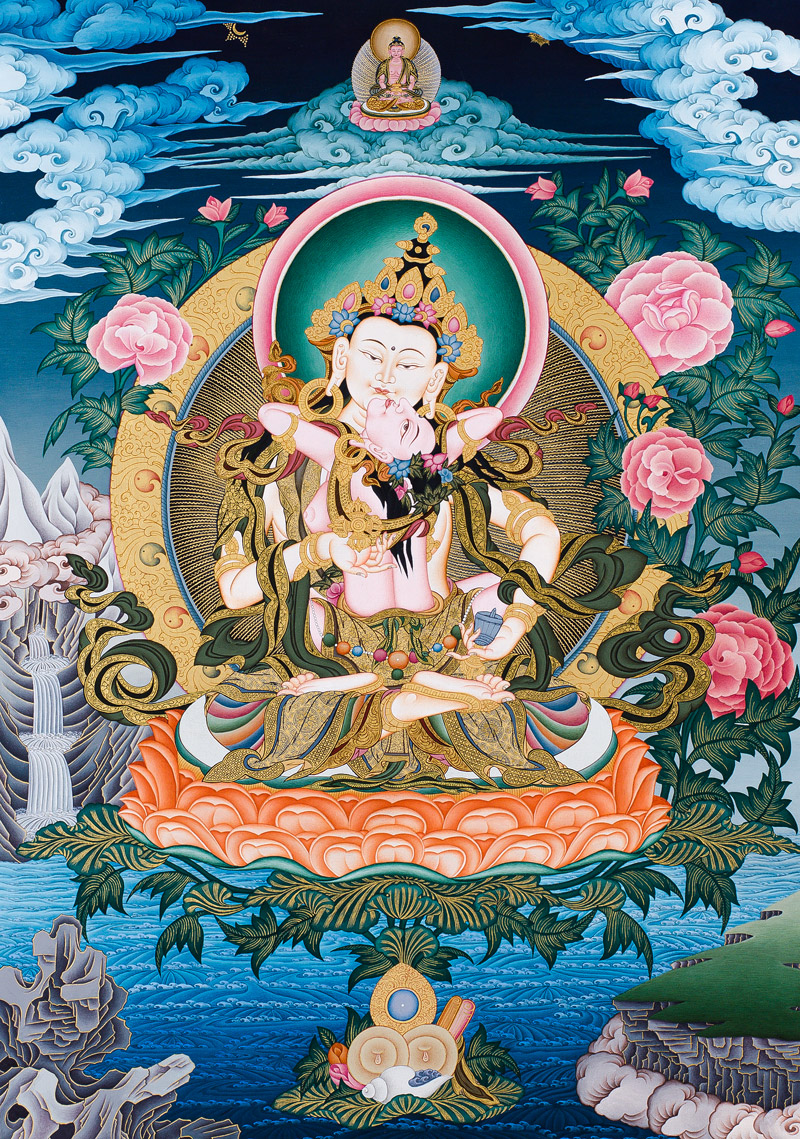 ---
Dating back to the 7th century A.D, thangka painting is unequivocally one of the greatest art forms of Asia, and is considered to be part of the Abhidharma or "Art of Enlightenment". This means that thangkas are considered Buddhist iconography, each painting will symbolically represent divinities and passages based on the teachings of the Buddha.
Thangkas have evolved over the years from a purely spiritual art form to a style that museums have dedicated sections of. Artists in Nepal, and more specifically Kathmandu, developed the earliest recorded style called Pauba. Its close relationship with Tibet and large Buddhist population means that Nepal has now become one of the largest hubs for Thangka art.
A great amount of skill and study is also required to paint a Thangka, as each ornament, posture and attribute represents a particular aspect of Buddhism and its teachings. This means that the quality of the painting is judged by the ability that the artist has to reproduce each element as perfectly as possible. The materials used over time has indeed developed but the techniques and methodology remains almost untouched.
Thangkas can now be found in all sorts, ranging from cheap mass produced tourist souvenirs to beautiful paintings that can take several months to complete. As you browse through our collection you will find Thangkas that are at both ends of the spectrum. If for any reason you wish to order a specific painting that may not be online use the custom order form to get in touch with us.
Given the large amount of Thangkas of Buddhist deities there exists a classification system that we will cover in the next section.
---
Buddhism is considered a polytheist religion, which means that it is a religion that worships/believes in multiple deities. If we go back through time and scripture we will indeed see that the Buddhist pantheon is rich in myth and legend, and there are in fact innumerable emanations of the Buddha. These various emanations each have a specific role or quality and it is these qualities that we as practitioners try to emulate in our lives and daily actions. Given the huge number of deities and avatars a simple yet effective method of classification was created.
The classification system contains three broad classes: peaceful deities, wrathful deities and yidams. Each section contains an explanation of the nature of these deities. Peaceful deities are the most popular, with calm soothing features that help us nurture the qualities of the Buddha. Wrathful deities are considered protectors and Yidams are practice specific.
Please take a look at the respective sections for a more detailed look and explanation.
There exists another style of Thangka that will not have its own category. Denser and with a lot of miniature work, these often depict a passage within a scripture or a historical event that is of great importance. The two most popular examples are the "Life of Buddha" and the "Wheel of Life". These two paintings are very much at the base of the Buddhist teachings with one explaining the philosophical aspect and the other giving a real world example of how to live a life of spiritual liberation.
Colour
All

black

black & gold

blue

brown

green

orange

purple

yellow

red
Size
All

small

medium

large

extra large
February 27, 2023
Maitreya
,
Peaceful Deities
,
traditional
,
Optional
Maitreya whose name means " the all loving" is the future Buddha. He is golden in colour and is seated on a throne that is supported by snow lions, his feet resting upon a moon dics that rises from a lotus flower. His hands meet at t...