tibetan. DREULJANG   Sanskrit. SYAMATARA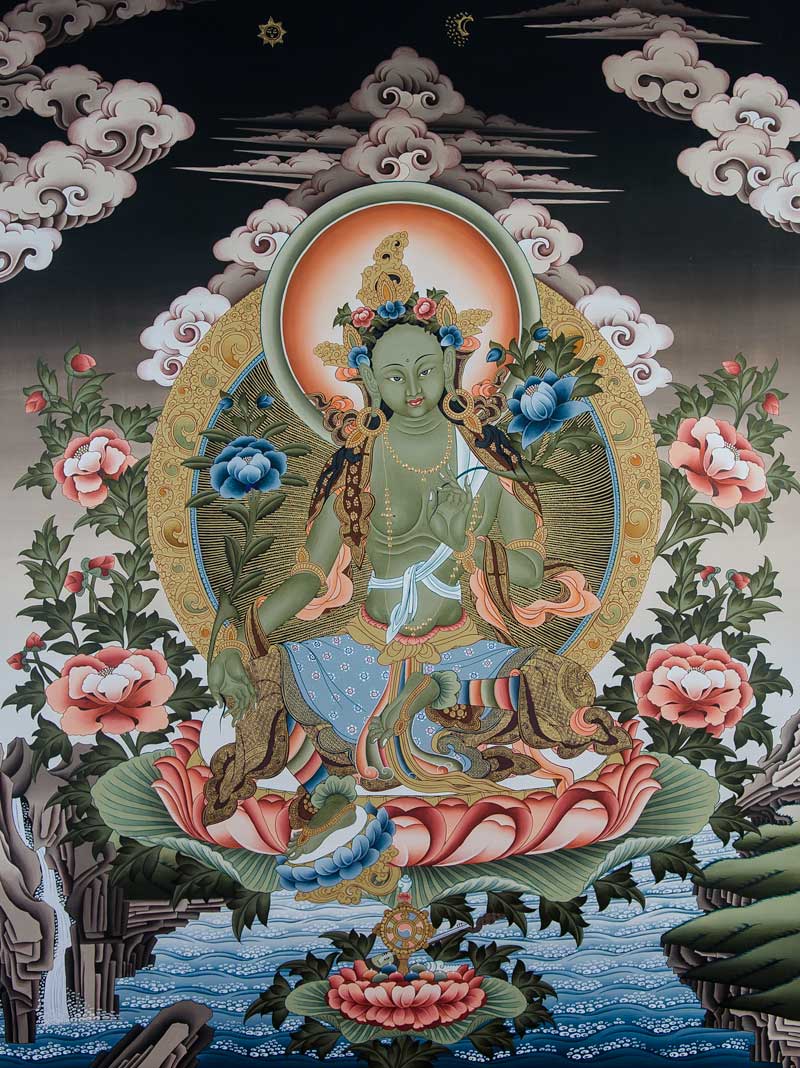 ---
The Green Tara is one of the two most popular forms of the Tara, she is also known as Arya Tara or Vasya Tara and is considered to take up to 10 different forms ! She holds an important role in the Buddhist hierarchy as she is the consort of Amoghasiddhi, the Dhyani Buddha that represents willful action.
It is important to understand that Taras are themselves a separate class of deities, which will be detailed  more  on our blog. One of the easiest ways of recognizing the Green Tara is her color - which represents the active Enlightenment of Feminine Compassion and her posture which indicates that the Tara is always willing and ready to help the needy that pray to her. 
The Green Tara holds an important role in Tibetan Buddhism, she is believed to be one of the guardian deities of Tibet, revered and worshiped by almost all different forms of Buddhism existing today. Historically, we can trace back some stories of re-incarnations Green Tara - the one that is most pertinent to me, is the story of the Newari princess that married Songtsen Gampo, responsible for introducing Buddhism into Tibet. She is said to have brought a great amount of artists and artisans with her, which in turn gave birth to the style of Thangkas that you see today.
She holds a lotus that symbolizes  all the qualities of Realization that are present within her. The lotus is an attribute that is often found on deities that transcend compassion, a quality that is essential to accepting the Buddhist philosophy. Each attribute is pictured in the next section so you can see the different enlightened qualities that she symbolizes.
mantra

- OM -

TARE

- TUTTARE -

TURE

- SWAHA -
April 2, 2018
Green Tara
,
Peaceful Deities
,
brown
,
green
,
medium
,
Free Shipping
,
Cotton Canvas
,
Gold Leaf
,
Gouache
,
Optional
Stunning thangka of the Green Tara painted by an artist many consider a Guru....